Choosing the bride's dress is an important part of the wedding planning process. One of the most important considerations to make is the appropriate length of the dress, which refers to the height above the floor at which it should fall. There is an unmistakable connection between the length of your wedding dress and the way you feel and look on the most important day of your life. In the following paragraphs, we will go over some things to think about while choosing the ideal dress length for your wedding.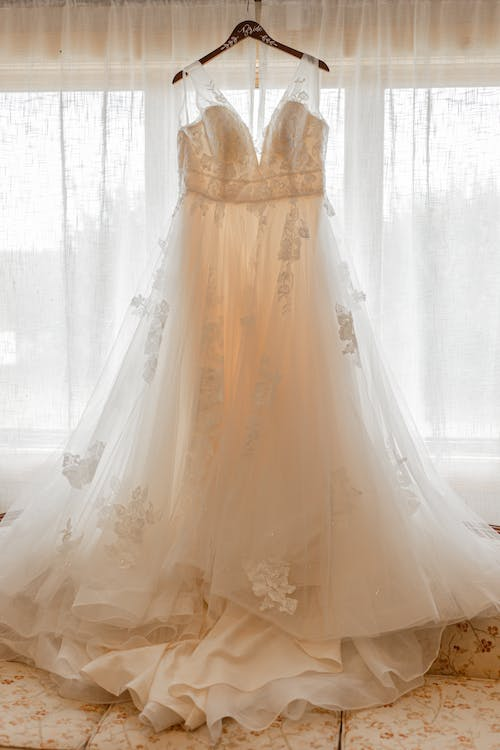 We have you covered with professional advice and insights to ensure that you walk down the aisle in style and confidence, regardless of whether you are looking for a knee-length gown or a spectacular train that sweeps the floor. We have you covered with professional advice and insights to ensure that you walk down the aisle in style and confidence. Let's go over all of the many alternatives for the length of the wedding dress, and then pick the one that works out best for you.
How Long Should Wedding Dress Be From The Floor?
A wedding gown's hemline from the floor might be short or long, depending on the bride's taste and the designer's vision. Here are some standard wedding dress length and rules for wedding dresses:
Floor-Length: A floor-length wedding dress typically skims the floor with a small train. This is a classic and elegant choice that works well for most wedding venues and styles.
Sweep Train: A sweep train is a shorter train that extends just a few inches behind the dress, gently sweeping the floor. It adds a touch of drama without being too cumbersome and is suitable for a variety of wedding themes.
Chapel Train: The chapel train is longer than a sweep train, usually extending about 1 to 2 feet behind the dress. It's a popular choice for traditional and formal weddings.
Cathedral Train: For a truly grand and formal look, a cathedral train is the longest option, extending several feet behind the dress. This style is often chosen for elaborate, extravagant weddings.
Length: A tea-length wedding dress falls between the knee and the ankle, typically ending just above the ankles. It's a playful and vintage-inspired option for less formal weddings or beach ceremonies.
Ankle-Length: An ankle-length wedding dress is slightly shorter than tea-length, ending at or just above the ankles. It's a casual and comfortable choice, ideal for informal or destination weddings.
Hi-Lo or Asymmetrical: Hi-lo or asymmetrical wedding dresses have a shorter front hem and a longer back hem. This style is trendy and can be a great choice for brides who want to showcase their shoes or have ease of movement.
The length of your wedding dress must reflect not only your style but also the amount of formality of the event as well as your level of comfort on the big day. Think about how easy it will be to move around in your dress, especially if you plan on doing any kind of dancing or walking on uneven ground after you purchase it. The most essential component of a successful wedding day is for the bride to feel beautiful and assured in her wedding attire.
How Do You Walk In Floor Length Wedding Dress?
Learning how to walk gracefully in a long wedding dress takes time and effort. Here are some suggestions for how to walk more gracefully and comfortably in a long gown:
Choose the Right Shoes: Select comfortable wedding shoes and the appropriate height. The heel height should match the dress length to prevent tripping. If your dress is already hemmed to a specific heel height, make sure your shoes match that height.
Practice Your Stride: Before your big day, practice walking in your dress. Start by taking small, graceful steps. Keep your feet close together and walk slowly to maintain control and balance.
Lift the Dress: When you walk, gently lift the front of your dress with your hands to avoid stepping on it. Lift just enough to clear the floor, and don't pull it up too high, as it may distort the dress's silhouette.
Maintain Good Posture: Stand up straight with your shoulders back and your chin up. Good posture will help you glide gracefully and exude confidence.
Hold Your Bouquet Properly: If you're carrying a bouquet, hold it at your waist or slightly below. Avoid gripping it too tightly, as it can make your movements appear stiff.
Practice Walking on Different Surfaces: If your wedding will take place outdoors or on uneven terrain, practice walking on similar surfaces in your dress and shoes to get a feel for it.
Enlist Help: You may want to have someone, such as a bridesmaid or a wedding coordinator, assist you with your dress as you walk, especially when navigating stairs or long distances.
Take Small Steps: When going up or down stairs, take small, deliberate steps. Hold the handrail for added stability.
Consider a Bustle: If your dress has a train that you'd like to temporarily lift during the reception, consider adding a bustle. A bustle will help gather the train and prevent it from trailing behind you as you dance.
Relax and Smile: Finally, remember to relax and enjoy your special day. A confident and radiant smile will complement your graceful walk in your floor-length wedding dress.
You must become acclimated to moving around in your wedding dress well in advance of the big day. It's normal to feel anxious about making your way down the aisle in your wedding dress, but if you practise your walk ahead of time, you'll be able to better manage your nerves and enjoy the moment.
Conclusion
You may feel intimidated at the thought of walking down the aisle in a floor-length wedding dress, but with the appropriate shoes, some practice, and a few straightforward techniques, you will be able to do so with grace and assurance. The day you say "I do" is a special occasion, and how you walk down the aisle while wearing your wedding dress can add to the enchantment of the day. Therefore, it is important to select shoes that are comfortable for you, work on perfecting your stride, and keep in mind to raise your dress as you walk. You will be able to make a dazzling entrance and dance the night away without any difficulty if you put in the necessary amount of practice and enlist the assistance of your wedding party. Above all else, remember to take pleasure in each stage of the process and revel in the happiness of this very special day.
On the day of your wedding, the dress you wear is more than just a piece of clothing; rather, it is a representation of your love story as well as your unique sense of style. When wearing a floor-length wedding dress, walking is not simply about going from point A to point B; rather, it is about making a statement and leaving an impression that will last a lifetime.
In the end, walking down the aisle in a floor-length wedding dress is not only about the practicalities; rather, it is about embracing the romance of the moment and making memories that will last a lifetime. Therefore, proceed with elegance, poise, and an open heart, knowing that you are about to begin a wonderful journey with the one that your heart beats for, and do so with the knowledge that this adventure awaits you both.